Sean Hayes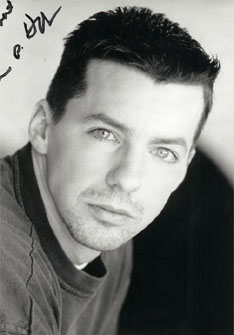 AKA Sean Patrick Hayes
Born: 26-Jun-1970
Birthplace: Chicago, IL

Gender: Male
Race or Ethnicity: White
Sexual orientation: Gay [1]
Occupation: Actor
Nationality: United States
Executive summary: Jack McFarland on Will & Grace
Sean Hayes played the flamboyantly gay Jack McFarland on TV's Will & Grace, where he was Emmy-nominated seven times, and won the honor in 2000. He played Katie Holmes' repressed neighbor in Pieces of April, and the phobic Mr. Humberfloob and the voice of The Fish in the horrendous The Cat in the Hat with Mike Myers. He played Jerry Lewis to Jeremy Northam's Dean Martin in the TV movie Martin & Lewis, and he was one of the many producers of Situation: Comedy for Bravo.
He was an accomplished pianist while still a child, and made his film debut at 16 as an uncredited extra in the background of Lucas with Corey Haim and Charlie Sheen, which was partially filmed at the high school Hayes attended. Before his success as an actor, he studied music performance and conducting, served as musical director at a Chicago area playhouse, played piano with a band called Sounds from the Stairs, toured as Kenny Rogers' keyboard man, worked as a stand-up comedian, and honed his comic skills with Chicago's Second City improv group. He first gained notice as the gay photographer who fell for the straight coffeemaker in Billy's Hollywood Screen Kiss, and he was promoting that film when he was offered the role on Will & Grace. With his first paycheck from Will & Grace, he bought a top-of-the-line grand piano.
Hayes is reticent to discuss his sexuality, except to say that he wants audiences to believe he is gay when watching Will & Grace, and believe he is straight when he plays a straight character.
---
[1] According to Michael Jeter, Evening Shade, quoted in Boze Hadleigh's Celebrity Diss and Tell: Stars Talk About Each Other, page 25: "Before Will and Grace, his name was Sean P. Hayes and he played a nonstereotypical gay character in the movie Billy's Hollywood Screen Kiss. The actor was openly gay, doing interviews. The movie did, like, ten dollars in business. Now Sean Hayes plays a stereotypical gay on Will and Grace and refuses to say whether he's gay. Truth in advertising is discouraged in show business." Came out in an interview with The Advocate, April 2010: "I am who I am. I was never in, as they say. Never."

Father: Ronald Hayes (lithographer)
Mother: Mary Hayes (social worker)
Brother: Dennis Hayes (warehouse worker, b. 1963)
Brother: Kevin Hayes (salesman, b. 1964)
Brother: Michael Hayes (graphic designer, b. 1965)
Sister: Tracey Hayes (police officer, b. 1967)


High School: Glenbard West High School, Glen Ellyn, IL (1988)
University: BA Music, Illinois State University (1992)


John Kerry for President
Kerry Victory 2004
Emmy 2001 for A & P by John Updike


TELEVISION
Will & Grace Jack McFarland (1998-2006)


FILMOGRAPHY AS ACTOR
Monsters University (8-Jun-2013) [VOICE]
Hit and Run (2-Aug-2012)
The Three Stooges (13-Apr-2012) · Larry
Cats & Dogs: The Revenge of Kitty Galore (29-Jul-2010) · Mr. Tinkles [VOICE]
A Marine Story (19-Jun-2010) · Paintball Ref
Soul Men (7-Nov-2008)
Igor (19-Sep-2008) [VOICE]
The Bucket List (16-Dec-2007)
Win a Date with Tad Hamilton! (23-Jan-2004) · Richard Levy The Shameless
The Cat in the Hat (8-Nov-2003) · The Fish
Pieces of April (19-Jan-2003)
Martin and Lewis (24-Nov-2002)
Cats & Dogs (23-Jun-2001) [VOICE]
Buzz Lightyear of Star Command: The Adventure Begins (8-Aug-2000) [VOICE]
Jackie's Back! (14-Jun-1999) · Himself
Billy's Hollywood Screen Kiss (1998)





Requires Flash 7+ and Javascript.



Do you know something we don't?
Submit a correction or make a comment about this profile






Copyright ©2014 Soylent Communications