Philip Freneau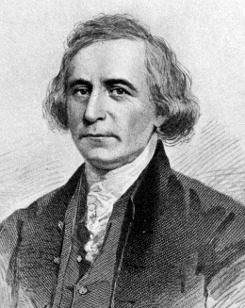 AKA Philip Morin Freneau
Born: 2-Jan-1752
Birthplace: New York City
Died: 18-Dec-1832
Location of death: Freehold, NJ
Cause of death: unspecified
Remains: Buried, Philip Morin Freneau Burial Site, Matawan, NJ

Gender: Male
Race or Ethnicity: White
Sexual orientation: Straight
Occupation: Poet
Nationality: United States
Executive summary: Poet of the American Revolution
American poet, styled by some as "Poet of the American Revolution", was born 1752 in New York City, and graduated Princeton in 1771. Some of his published poems were written before he left college. He made a voyage to the Danish West Indies in 1776, and there wrote several of his longest verses. In 1778 he visited Bermuda, and on his return became a contributor to The United States Magazine, edited by Hugh H. Brackenridge. On a second voyage in 1780 to the West Indies he was captured by an English cruiser, and his experiences as a prisoner are recorded in bitter terms in The British Prison Ship.
On regaining his liberty the next year, he wrote frequently in prose and verse for the Freeman's Journal. After the close of the war he was variously employed as an editor, and master of a vessel in voyages to the West Indies and to the southern states until 1790, when he became editor of the New York Daily Advertiser. Jefferson became interested in him, and appointed him translator for the State Department (though he spoke only French and English), and at the same time Freneau assumed the editorship of the National Gazette. The violence of this paper's attacks on the Federalists aroused Hamilton's ire, who accused Freneau of being the pensioned tool of Jefferson, which compelled the latter to write an explanatory letter to Washington.
Freneau's next newspaper undertaking was the Jersey Chronicle, which he published for a short time at his residence, Mount Pleasant, New Jersey. In 1797 he issued in New York the Timepiece and Literary Companion, but his connection with it was brief. Between this time and his death in 1832 he seems to have done little of public interest. He lost his life from exposure, freezing to death while returning to his home from the nearby village of Freehold.
Wife: Eleanor Forman (m. 1790)

University: Princeton University (1771)

Do you know something we don't?
Submit a correction or make a comment about this profile

Copyright ©2014 Soylent Communications