Fred Phelps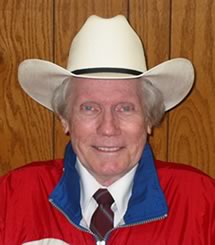 AKA Frederick Waldron Phelps, Sr.
Born: 13-Nov-1929
Birthplace: Meridian, MS

Gender: Male
Religion: Baptist
Race or Ethnicity: White
Sexual orientation: Straight
Occupation: Activist, Religion
Party Affiliation: Democratic [1]
Nationality: United States
Executive summary: Convinced that God hates fags
Fred Phelps is a self-described "Primitive Baptist" preacher fixated on the few Biblical passages that mention homosexuality. He is the pastor of Westboro Baptist Church in Topeka, Kansas, where he preaches that "God hates fags", and that the Biblical punishment for homosexuality is death, followed by eternal damnation to hell. His church is largely populated by the Phelps family, and they are best known for their demonstrations -- holding garish placards writ with vulgar stick-figure slogans and singing upside-down hymns reworked to fit Phelps' message. The group publicly celebrates God's wrath after tragedies and natural disasters, and since September 11 they have regularly picketed the funerals of American soldiers killed in Iraq.
Phelps was ordained a minister at 17, as Southern Baptists did not require ministers to be graduates of any seminary. Rev. Phelps and Westboro Baptist, however, are no longer affiliated with the Southern Baptist Church. He first made national news in 1951 when, attending John Muir College in California, he led a campus campaign against "promiscuous petting, evil language, profanity, cheating, teachers' filthy jokes in classrooms and pandering to the lusts of the flesh". He began leading anti-gay protests in 1991, and reached his pinnacle of fame when he and his followers demonstrated at the funeral of Matthew Shepard, carrying signs announcing that Shepard was already burning in hell. At Phelps' website, "godhatesfags.com", he provides a daily counter of the number of days Shepard has been burning in hell.
According to church statistics, by 2005 his church had staged more than 22,000 anti-gay protests across the nation and around the world. If Phelps' estimate can be believed, it represents more than 3½ protests every day since 1991. Phelps routinely leads pickets against all things homosexual, including any public figure who believes gays should have civil rights. He became especially disgusted with Jerry Falwell, after Falwell said nice things about a former employee who came out of the closet. Due to budget constraints, most of Phelps' protests are in and around Topeka, Kansas, where, as you might guess, the Phelps family's presence causes persistent eye-rolling.
Some former followers of Phelps say they saw him repeatedly slap his ten-month-old son during church services, when the infant began to cry. Others say Phelps' idea of "marital counseling" was to recommend wife-beating. "Brethren, they can lock us up, but we'll still do what the Bible tells us to do. Either our wives are going to obey, or we're going to beat them!"
In 1993, as Phelps' name became controversial in his home town, his estranged son, Mark Phelps, wrote a letter to his hometown newspaper, The Topeka Capital-Journal:
I believe in God and the Bible, and my father's behavior doesn't fit the description of behavior that would show in the life of one who loves God; behavior characteristics such as Love, Joy, Peace, Longsuffering, Kindness, Goodness, Faithfulness, Gentleness, Self-control. Instead, my father's behavior characterizes, I believe, Hate, Outbursts of Wrath, Contention, Jealousy, Vengefulness, Misery, Harshness, and Selfish ambition. He mis-states the truth about his own behavior, about others, about the Bible, with apparent ease and regularity. He behaves with a viciousness the likes of which I have never seen. He accepts no genuine accountability in his life and is subject to no one. His lifestyle betrays the sacred trust of what a pastor, husband, father and grandfather should be. I suppose if a comparison were made between the life of Jesus Christ and my father, there would not be much to compare.

I believe that Topekans are making a good effort to try and stop him and should continue to do so. He can seem very intimidating. He can use foul language and come across with a booming voice to the community, but the truth is, like the Wizard of Oz, when Toto pulls the curtain back, instead of this big powerful individual, it's only a small, pathetic old man. I feel sorry for my father as I would for anyone who displays this kind of hate and evil viciousness. These can only be the manifestations of tortured, injured and agonizing souls."
Westboro Baptist Church is based in a circle of houses in a middle-class Topeka neighborhood. In one house, Phelps raised his family, and eventually the neighbors' houses were purchased, effectively creating a compound. All the houses share a large fenced backyard. To Phelps' congregation he is "Gramps" -- nine of his thirteen children belong to the group (four having fallen away), along with dozens of grandchildren and a handful of followers unrelated by blood. The adults hold jobs and the children attend school, but they otherwise do not associate with outsiders. All of them, even the youngest children, are expected to join in the pickets.
Phelps was a prominent civil rights lawyer for many years, arguing and often winning cases where black plaintiffs complained of illegal discrimination. "God hates fags," he says. "He doesn't hate blacks." In 1987, Phelps received an award from the local branch of the NAACP, recognizing his "undauntedness" and "steely determination for justice". More recently, however, "black" has become part of Phelps' glossary of insults, with press releases attacking various leaders as "black whores", "black faggots", and so on.
He was suspended from the practice of law for two years beginning in 1969, on three counts of professional misconduct. He was disbarred in 1979 for showing "little regard for the ethics of his profession", after several of his court filings seemed to be increasingly at odds with the facts of the assorted matters. The family's law firm continues to operate. Of Phelps' children, all adults, at least 11 are lawyers, and several work for the family firm.
Phelps co-wrote a 2000 documentary about himself, Fred: The Movie, and Westboro Baptist Church funded it. BBC filmmaker Louis Theroux spent three weeks living with the Phelpses trying to understand the family and their crusade, producing the skeptical, yet humanizing documentary The Most Hated Family In America (2007).
---
[1] Phelps is a Democrat, frequently participating in Democratic primaries for Governor of Kansas.

Father: Fred Wade Phelps (railroad security officer, d. 14-Oct-1977)
Mother: Catherine Idalette Johnston (housewife, d. 3-Sep-1935)
Mother: Olive Briggs (stepmother, m. 1944, d. 29-June-1985)
Sister: Martha Jean Capron (retired missionary, estranged from Phelps family)
Wife: Margie Marie Simms (m. 15-May-1952, thirteen children)
Son: Fred Phelps, Jr. (lawyer, employed by Kansas Department of Corrections)
Son: Mark Phelps (business executive, estranged from Phelps family)
Daughter: Katherine Phelps (lawyer, license to practice law suspended, estranged from Phelps family)
Daughter: Margie Phelps (lawyer, employed by Kansas Department of Corrections)
Daughter: Shirley Phelps-Roper (lawyer)
Son: Nathan Phelps ("Nate", gay rights and atheist activist, estranged from Phelps family)
Son: Jonathon B. Phelps (lawyer)
Daughter: Rebekah Phelps-Davis (lawyer)
Daughter: Elizabeth Phelps (lawyer, works at homeless shelter)
Son: Timothy Phelps (lawyer, employed by Shawnee County Department of Corrections)
Daughter: Dorotha Bird (lawyer, estranged from Phelps family)
Daughter: Rachel Phelps (lawyer)
Daughter: Abigail Phelps (lawyer)


High School: Meridian High School, Meridian, MS (1945)
University: Bob Jones University (dropped out)
Theological: Prairie Bible Institute, Three Hills, Alberta, Canada (dropped out)
Theological: AA, John Muir College (1951)
University: BA, Washburn University, Topeka, KS (1962)
Law School: JD, Washburn University, Topeka, KS (1964)


Eagle Scout
Battery Pasadena, CA 1951, convicted
Defamation 1993
Disorderly Conduct Topeka, KS 27-Mar-1992
Disorderly Conduct Topeka, KS 22-Jun-1993
Disorderly Conduct Topeka, KS 7-Jul-1994, convicted
Disorderly Conduct Topeka, KS 29-Oct-1995, acquitted
Disorderly Conduct Topeka, KS 18-Feb-1998
Drug Overdose 1968
Disbarred
Deported barred entry, England (Feb-2009)
Risk Factors: Homophobia


FILMOGRAPHY AS ACTOR
The Most Hated Family in America (1-Apr-2007) · Himself


Official Website:
http://www.godhatesfags.com/

Rotten Library Page:
Fred Phelps





Do you know something we don't?
Submit a correction or make a comment about this profile






Copyright ©2014 Soylent Communications