Terry Pratchett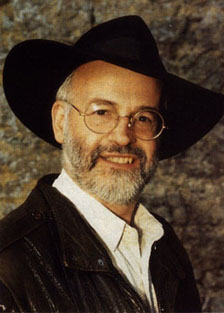 AKA Terence David John Pratchett
Born: 28-Apr-1948
Birthplace: Beaconsfield, Bucks, England

Gender: Male
Religion: Atheist
Race or Ethnicity: White
Sexual orientation: Straight
Occupation: Novelist
Nationality: England
Executive summary: Discworld sci-fi series
Fantasy author Terry Pratchett is noted for his satiric and whimsical novels, especially his Discworld series. Pratchett's work, which spans literature for children, teens, and adults, has been compared to Monty Python, Douglas Adams's Hitchhikers Guide to the Galaxy, as well as the writings of P. G. Wodehouse. Pratchett's best loved works include The Colour of Magic, Pyramids, Soul Music, The Light Fantastic, Guards! Guards!, Reaper Man, Interesting Times, Wyrd Sisters, Sourcery, and Equal Rites. His work had been adapted into a number of other mediums including animated film, stage plays and musicals, computer games, as well as radio plays and comic books.
Terry Pratchett was born in Beaconsfield, England, and he credits most of his education to the Beaconsfield Public Library. Pratchett notes that when it was time to move on to secondary school, in 1959, he selected High Wycombe Technical High School because he felt "woodwork would be more fun than Latin". Despite this decision Pratchett had no actual career direction in mind and describes himself as an uninterested student. Still he achieved excellent grades, and his first story, "The Hades Business", was published in the school magazine. More impressively, this same story was reprinted in Science Fantasy Magazine in 1963. Another story, "Night Dweller", followed in New Worlds magazine in 1965.
Pratchett finished school that same year, although only a teen, and took employment as a journalist, first at Bucks Free Press, then at various other papers. It was during this period that he interviewed publisher Peter Bander van Duren, of Colin Smythe Limited. Pratchett told Bander van Duren of a novel he had written, and asked him to take a look. The book, a funny and absurd story for children called The Carpet People, was happily accepted and was released in 1971. Pratchett soon published two more novels, The Dark Side of the Sun (1976) and Strata (1981), before finally releasing The Colour of Magic (1983), the first in what would prove to be a long series of Discworld novels. Originally intended to parody the fantasy books of the 70s and 80s, the Discworld tales unfold on an absurdly improbable world: a disc carried on the backs of four giant elephants, themselves carried on the backs of a gargantuan turtle swimming through space.
Meanwhile Pratchett had shifted around between various newspapers posts, and had finally, in 1980, been appointed publicity officer for the Central Electricity Generating Board -- a job which placed him in the absurd position of generating positive PR for nuclear power plants, in the wake of the Three Mile Island disaster. By 1987 however his success as a writer had expanded dramatically, encompassing popular fantasy books for a variety of age markets. His earnings as a writer now outweighed his "regular income", and so quit his day job to devote himself entirely to writing and puttering in his greenhouse.
Esteem for Pratchett's work is reflected both in the popularity of his current work and in the value attached to old editions of his books (some fetching as much as £2000) -- as well as in the quantity of metafiction about him and his creations. The latter includes two trivia books (The Unseen University Challenge and The Wyrdest Link) by David Langford as well as a collection of essays, Terry Pratchett: Guilty of Literature?. In 1998 Pratchett was awarded the Order of the British Empire for his contribution to literature, and in 1999 he received an honorary Doctorate of Letters from the University of Warwick.
Diagnosed with Alzheimer's disease in 2007, he has become an activist for assisted suicide, and says he plans to exit on his own terms, "sitting in a chair in my own garden with a glass of brandy in my hand". He has announced that his daughter Rhianna Pratchett, herself an accomplished writer, will take over the Discworld series. Knighted in 2009, he marked the occasion by making his own sword — from scratch, gathering and smelting the iron ore in his homemade kiln.
Father: David Pratchett
Mother: Eileen Pratchett
Wife: Lyn Marian Purves (m. 1968)
Daughter: Rhianna Pratchett (author)

High School: High Wycombe Technical High School

Officer of the British Empire 1998
Knight of the British Empire 2009
Risk Factors: Alzheimer's

FILMOGRAPHY AS ACTOR
Going Postal (30-May-2010)
The Color of Magic (23-Mar-2008)
Hogfather (17-Dec-2006)

Official Website:
http://www.terrypratchettbooks.com/
Author of books:
The Dark Side of the Sun (1976, novel)
Strata (1981, novel)
The Color of Magic (1983, Discworld novel)
The Light Fantastic (1986, Discworld novel)
Equal Rites (1987, Discworld novel)
Mort (1987, Discworld novel)
Sourcery (1988, Discworld novel)
Wyrd Sisters: Starring Three Witches, Also Kings, Daggers, Crowns ... (1988, Discworld novel)
Guards! Guards! (1989, Discworld novel)
Pyramids: The Book of Going Forth (1989, Discworld novel)
Unadulterated Cat (1989, humor)
Eric (1989, Discworld novel; a/k/a Faust)
Good Omens: The Nice and Accurate Prophecies of Agnes Nutter, Witch (1990, novel, with Neil Gaiman)
Moving Pictures (1990, Discworld novel)
Reaper Man (1991, Discworld novel)
Witches Abroad (1991, Discworld novel)
Small Gods (1992, Discworld novel)
Lords and Ladies (1992, Discworld novel)
Men at Arms (1993, Discworld novel)
Interesting Times (1994, Discworld novel)
The Discworld Companion (1994, reference; with Stephen R. Briggs)
Maskerade (1995, Discworld novel)
Soul Music (1995, Discworld novel)
Feet of Clay (1996, Discworld novel)
Hogfather (1996, Discworld novel)
Jingo (1997, Discworld novel)
Carpe Jugulum (1998, Discworld novel)
The Last Continent (1998, Discworld novel)
The Fifth Elephant (1999, Discworld novel)
The Science of Discworld (1999, with Jack Cohen and Ian Stewart)
The Truth (2000, Discworld novel)
The Last Hero (2001, Discworld novel)
Thief of Time (2001, Discworld novel)
Night Watch (2002, Discworld novel)
The Science of Discworld II: The Globe (2002, with Jack Cohen and Ian Stewart)
The Art of the Discworld (2003, non-fiction; with Paul Kidby)
Monstrous Regiment (2003, Discworld novel)
Going Postal (2004, Discworld novel)
The Science of Discworld III: Darwin's Watch (2005, with Jack Cohen and Ian Stewart)
Thud! (2005, Discworld novel)
Lu-Tse's Yearbook of Enlightenment (2007, humor; with Stephen R. Briggs and Paul Kidby)
Making Money (2007, Discworld novel)
The Folklore of Discworld (2008, reference; with Jacqueline Simpson)
Unseen Academicals (2009, Discworld novel)

Do you know something we don't?
Submit a correction or make a comment about this profile

Copyright ©2014 Soylent Communications