Lindsay Lohan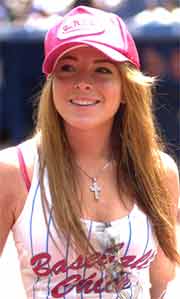 AKA Lindsay Dee Lohan
Born: 2-Jul-1986
Birthplace: Bronx, NY

Gender: Female
Religion: Roman Catholic
Race or Ethnicity: White
Sexual orientation: Bisexual [1]
Occupation: Actor
Nationality: United States
Executive summary: Mean Girls
At three, Lindsay Lohan was a working model. As a kid she appeared in ads for dozens of products from Pizza Hut to the Gap, and co-starred with Bill Cosby in a Jell-O commercial. At six, she was one of the trick-or-treaters who rang David Letterman's doorbell on a Halloween Late Show. Her costume was made from garbage allegedly found on the D-train, and Letterman gave her a garden hose. At ten, Lohan was a semi-regular on the soap opera Another World, as Alexandra "Ally" Fowler. The following year, she made her motion picture debut as twins in Disney's 1998 remake of The Parent Trap with Dennis Quaid.
After a few years' break from her career, Lohan moved to Los Angeles without her parents, and for a while shared an apartment with actress Raven-Symoné. Lohan briefly dated babyfaced actor Aaron Carter, until she learned he was also dating Hilary Duff. Duff and Lohan feuded loudly about that for months, before Lohan decided that the whole rivalry was rather "high school".
She re-teamed with Disney for another hit remake, Freaky Friday with Jamie Lee Curtis, and in Tina Fey's Mean Girls she played a high school girl drifting toward bitchdom. In 2002 she signed a multi-album deal with Emilio and Gloria Estefan's Estefan Enterprises. Her first album, Speak, went platinum, and her 2005 follow-up A Little More Personal (Raw) went gold.
As an adult, Lohan's night life with celebrity ex-pals like Paris Hilton have become legendary. In October 2004 she was hospitalized with "a high fever", in February 2005 she was hospitalized with "chest pains", in January 2006 she was hospitalized after an "asthma attack". In July 2006 she was hospitalized with "heatstroke and exhaustion" while filming Georgia Rule with Jane Fonda, but after that incident witnesses said Lohan had been partying at a Hollywood nightclub the night before. James Robinson, CEO of the Morgan Creek studio, wrote Lohan a letter blaming her "all-night, heavy partying" for her chronic lateness and absences from the set -- and released the letter to the media. Similar accounts followed, of Lohan's social life causing delays on Herbie Fully Loaded and Bobby. In January 2007 she was briefly hospitalized for "an appendectomy", her publicist said, and she was seen partying til dawn the day after her alleged surgery. Even Tara Reid has told reporters "Lindsay Lohan is way more wild than I was when I was her age."
Through the spring and summer of 2005 Lohan appeared excessively thin, triggering speculation of anorexia or bulimia. Lohan denied any problem, but after several months she urged young girls to "learn from my mistakes", and admitted to a bout with bulimia. She then demanded a retraction, claiming the quote had been fabricated by reporters at Vanity Fair, but the magazine had the interview on tape.
In November 2006, perhaps unclear on the concept of "anonymous", both Lohan's publicist and her mother told the press that the actress had been attending Alcoholics Anonymous meetings. Her mother, however, stressed that Lohan was not an alcoholic, but only attended meetings to show her support for her friends. In January 2007, about five months before she would be old enough to legally drink alcoholic beverages, Lohan checked into a Los Angeles rehab center, and she has returned to rehab at least five times since then. While ensconced at the pricey Cirque Lodge rehabilitation center in Utah, she reportedly had sex in a toilet stall with another rehabbing resident, Tony Allen, a musician in the band Dead Stays Alive. Allen's wife, British millionaire Stephanie Allen, later named Lohan as "the other woman" in divorce papers.
In May 2005 she was in an auto wreck, and said her car was forced off the road by paparazzi pursuing her. Weeks later she said she had almost been in a second accident caused by media hounding. In October 2005, with no reporters nearby, she was in an accident in Beverly Hills. In November 2006, again reportedly being pursued by photographers, she crashed her car in Los Angeles, then told reporters later that she feared she would "end up like Princess Diana". A week and a half later she was in London with Calum Best, son of soccer star George Best, when their vehicle rammed into a police car. In March 2007 Lohan struck a photographer with her BMW in Los Angeles. In May 2007 Lohan's Mercedes was in a fender-bender on Sunset Boulevard, and she was arrested on suspicion of driving under the influence and possession of cocaine. In July 2007 she was arrested again, for drunk driving and possession of cocaine. In August 2007 she allegedly stole a friend's vehicle to chase the mother of an ex-employee, and cocaine was found in the vehicle Lohan was driving, but she assured police and reporters that it was not her cocaine.
She has been repeatedly accused of taking items that do not belong to her. In 2008, a mink coat disappeared from a New York night club, and Lohan was publicly suspected. In 2009, a $400,000 necklace she wore for an Elle magazine photo shoot vanished. In 2010, it was claimed she had "borrowed" a $35,000 Rolex from a friend without permission. She was not prosecuted in any of these incidents, but in 2011 she was charged with felony grand theft for allegedly stealing a $2,500 necklace from a California jewelry store. Lohan maintained that she had merely borrowed the necklace, with the shop's permission. More recently, she has continued to make headlines for a litany of petty arrests and altercations. As of late 2012, Lohan has made 19 court appearances.
During Lohan's well-publicized problems her father, Michael Lohan, has repeatedly gone to the media to berate her. He demanded millions in alimony as he divorced her mother -- "his share" of his daughter's earnings -- and while she was still a child star he reportedly threatened to kill both Lohan and her mother. He was arrested several times after his daughter became famous, once for pummeling her uncle with a shoe at communion, once for drunk driving, and twice for violating an order of protection taken out by Lohan's mother. In 2005 he pled guilty to drunk driving, attempted assault, aggravated harassment and criminal contempt, and was sentenced to four years in prison. After serving almost two years at the Collins Correctional Facility near Buffalo, NY, he was released in March 2007. During his jail time he found the Lord and became an ordained minister. In April 2010 he announced his engagement to former tabloid reporter and Jon Gosselin ex Kate Major, and three months later she obtained a restraining order against him, alleging that he had kicked her in the head. In August 2010 he announced that he would be opening a God-based drug and alcohol rehabilitation center.
---
[1] Publicist/blogger Jonathan Jaxson wrote in April 2007, "I would love to name all the young Hollywood she has slept with, but I will keep that for the book. Maybe she was tired of the boys and that is why she decided to spice it up with BFF Samantha Ronson. Here she gets a boy and a girl packaged all into one." In September 2008, Lohan and Ronson confirmed their relationship during a phone call to Los Angeles radio show Loveline.

Father: Michael Lohan (actor, As the World Turns, and potato chip salesman)
Mother: Dina Sullivan (business analyst, Lindsay's manager)
Brother: Michael Lohan Jr. (b. 16-Dec-1987)
Sister: Aliana Lohan (pop singer, b. 22-Dec-1993)
Brother: Dakota 'Cody' Lohan (b. 1996)
Boyfriend: Aaron Carter (singer, dated in early 2000s)
Boyfriend: Wilmer Valderrama (actor, dated 2004-05)
Boyfriend: Jared Leto (actor, dated 2005)
Boyfriend: Brett Ratner (film director, dated 2005)
Boyfriend: Ryan Adams (singer-songwriter, dated 2006)
Boyfriend: Shaun White (Olympic gold medal snowboarder, dated 2006)
Boyfriend: Harry Morton (Hard Rock Cafe heir, dated 2006)
Boyfriend: Calum Best (son of soccer star George Best, dated 2006, 2007)
Boyfriend: Jude Law (actor, dated 2007)
Boyfriend: Tony Allen (musician, cohabited in rehab 2007)
Girlfriend: Samantha Ronson (ex, cohabited 2008-09)
Girlfriend: Lady Victoria Hervey (model, together 2010)


High School: Calhoun High School, Long Island, NY (through 11th grade)
High School: (home schooled)


Endorsement of Gap
Endorsement of Pizza Hut
Endorsement of Wendy's
Endorsement of Kraft Foods Jell-O
Endorsement of Symantec paid Twitter message (16-Jul-2010)
Alcoholics Anonymous
Intervention
Appendectomy (4-Jan-2007)
unknown detox facility Wonderland Detox Center, Hollywood Hills, CA (2007)
Promises (28-May-2007)
Cirque Lodge (Aug-2007)
UCLA Resnick Neuropsychiatric Hospital (detox; 2-Aug-2010 to 24-Aug-2010)
Betty Ford Center (27-Sep-2010 to 3-Jan-2011)
Betty Ford Center (3-May-2013 to present)
Driving While Intoxicated Beverly Hills, CA (26-May-2007)
Driving While Intoxicated Santa Monica, CA (24-Jul-2007)
Driving with a Suspended License Santa Monica, CA (24-Jul-2007)
Drug Possession: Cocaine Santa Monica, CA (24-Jul-2007)
Failure to Appear Los Angeles, CA (20-May-2010)
Violating Probation (7-Jul-2010)
Violating Probation (24-Sep-2010)
Grand Theft Venice, CA (9-Jan-2011)
Leaving the Scene of an Accident New York City (19-Sep-2012)
Assault New York City (29-Nov.2012)
House Arrest (May-2011)
Inmate: Los Angeles County Jail Century Facility (15-Nov-2007)
Inmate: Los Angeles County Jail Century Facility (20-Jul-2010 to 2-Aug-2010)
Inmate: Los Angeles County Jail Century Facility (24-Sep-2010)
Posed Naked for Playboy (Jan-2012)
Irish Ancestry
Italian Ancestry
Risk Factors: Alcoholism, Amphetamines, Appendicitis, Asthma, Bipolar Disorder, Bulimia, Cocaine, Marijuana, Methamphetamine, Smoking, Yoga


FILMOGRAPHY AS ACTOR
The Canyons (29-Jul-2013)
Scary MoVie (11-Apr-2013) · Herself
InAPPropriate Comedy (22-Mar-2013)
Liz & Dick (25-Nov-2012)
Machete (1-Sep-2010) · April
Teenage Paparazzo (22-Jan-2010) · Herself
Labor Pains (19-Jun-2009)
I Know Who Killed Me (27-Jul-2007)
Georgia Rule (10-May-2007)
Chapter 27 (25-Jan-2007)
Bobby (5-Sep-2006)
Just My Luck (12-May-2006)
A Prairie Home Companion (12-Feb-2006)
Herbie: Fully Loaded (24-Jun-2005)
Mean Girls (19-Apr-2004) · Cady Heron
Confessions of a Teenage Drama Queen (17-Feb-2004)
Freaky Friday (6-Aug-2003) · Anna Coleman
Get a Clue (28-Jun-2002)
Life-Size (5-Mar-2000)
The Parent Trap (20-Jul-1998) · Hallie Parker and Annie James


Official Website:
http://www.llrocks.com/




Requires Flash 7+ and Javascript.



Do you know something we don't?
Submit a correction or make a comment about this profile






Copyright ©2019 Soylent Communications