X-Men: The Last Stand (22-May-2006)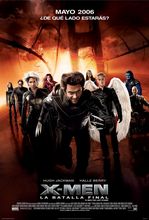 Director: Brett Ratner
Writers: Simon Kinberg; Zak Penn
Keywords: Sci-Fi, Action/Adventure, Superheroes, Comic Book, Mutants, San Francisco




Third entry in the X-Men comic book-to-film franchise follows the famed mutants as they tackle a host of new challenges following the defeat of William Stryker.
ABSTRACT
Sequel to X2 (2003). Reeling from their Pyrrhic victory over William Stryker and apparent loss of Jean Grey, the X-Men find themselves drawn into an all-new conflict with mortal humans when a "cure" for their genetic mutations is discovered and announced, consequentially jeopardizing their existence as superheroes. Jean Grey's unexpected return and subsequent evolution into the dangerous Phoenix presents yet another challenge for the time-worn X-Men, as they must work to rein in her uncontrollable powers whilst defusing Magneto's plans for an all-out catastrophic war against humanity.
REVIEWS
Review by Die Hard Comic Collector (posted on 1-May-2008)
I have to agree with the first reviewer. The third installment in the X-Men series was a waste of time and money and an insult to real comic book fans. Why waste our time with this crap that was obviously made just to make money. If you are not going to take the time to at least make the story interesting, I would suggest not making the movie. I am suprised Hugh Jackman, Hallie Berry and the other stars agreed to make the movie when the script was sooo convoluted and boring. I hope if they consider making another X-Men they will make sure the story is interesting and leave the fans salivating for more instead of causing us to think "WHAT A WASTE OF MY TIME AND MONEY"!
---
Review by Marvel Maniac (posted on 4-Feb-2008)
A little disappointing. I mean, they totally glazed over the whole other world experience that Jean had that begat Phoenix. Not to mention, in the fight against the evil mutants, where are Magneto's kids, Wanda and Pietro,aka, The Scarlet Witch and Quicksilver? The story has too many holes to be of the caliber of the first two films. Is there going to be X4? Are they actually going to tie up loose ends? I understand time constraints and artistic license, but come on! It's just like the bold faced lie in Spiderman. Peter Parker was not in love with the girl next door, Mary Jane Watson, since childhood. As a matter of fact, he didn't even know her until later. He and MJ were not romantic until Peter's REAL first love Gwen Stacy, was killed from her fall during the epic fight with the Green Goblin. Actually MJ was there to console him, and their casual friendship slowly blossomed. But later, Gwen comes back as a clone, and Peter forgets all about MJ once again for a second chance at happiness with his TRUE LOVE. To us real die hards that have been reading and collecting these classic Marvel Comics, practically since they began, I find it kind of disappointing that the original story lines have been so altered. As a huge fan of the mags and the films, I will still go to the movies whenever one comes out. I just wish, considering your deep pockets, and excellent stars that portray these characters, that you would just trust your original stories, and not second guess them. They're not broken, so don't fix them!
---
Do you know something we don't?
Submit a correction or make a comment about this profile

Copyright ©2019 Soylent Communications