Hugh Jackman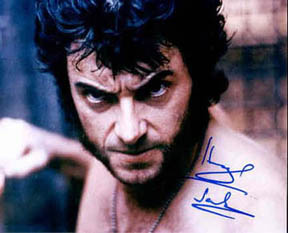 AKA Hugh Michael Jackman
Born: 12-Oct-1968
Birthplace: Sydney, New South Wales, Australia

Gender: Male
Race or Ethnicity: White
Sexual orientation: Straight
Occupation: Actor
Nationality: Australia
Executive summary: X-Men
Hugh Jackman's parents were both English, but they settled in Australia to raise their family. Their marriage dissolved when Jackman was about eight years old, and he and his siblings were raised by their father after their mother returned to England.
Jackman has said, possibly joking, that as a teenager he was inspired to become an actor because he loved the Friday the 13th movies, and yearned to eventually play Jason, the unstoppable killer. In college he studied journalism, but after graduation he found that work as a reporter did not interest him, and he began auditioning for stage roles. He made ends meet with odd jobs, including clown work at children's parties and dressing up in a furry "Kooey the Koala" costume to hand out brochures for the National Parks and Wildlife Foundation. He was still an aspiring actor with only regional plays on his résumé when he landed a role on Australia's long-running soap opera Neighbours, the program that helped propel Russell Crowe, Kylie Minogue, Guy Pearce, and other Aussies to stardom. Jackman, though, turned it down, preferring instead to sharpen his skills at the Western Australian Academy of Performing Arts.
After graduation from acting school, he was almost immediately hired to play the manipulative and violent inmate Kevin Jones on Correlli, an Australian TV drama about a gorgeous female psychologist working at a men's prison. Jackman played Dr Correlli's most difficult patient, and in real life he fell for the show's star, Deborra-Lee Furness. They were married the following year, and now have two children.
Over the next several years, Jackman often performed in theater, and he once literally peed his pants while playing the villain Gaston in a Melbourne production of Disney's Beauty and the Beast. He also starred on stage as the cynical screenwriter in Sunset Boulevard, and belted out "Oh What a Beautiful Morning" in a British production of Rodgers & Hammerstein's Oklahoma.
His first movie was 1999's Paperback Hero, an amusing romantic comedy with Jackman as a rough-and-tumble truck driver in Australia's outback who writes romance novels on the side. Mere months later, when Scottish heartthrob Dougray Scott backed out of his commitment to play Logan -- the Wolverine -- in the first X-Men movie, Jackman was a last-minute replacement, and the role, of course, made him a world-wide star.
In his post-X-Men career, Jackman won the 2004 Tony for Best Actor in a Musical for his Broadway turn as gay dancer and songwriter Peter Allen in The Boy from Oz. On film, he has had several high-profile roles, playing Meg Ryan's lost-in-time love interest in Kate & Leopold, the washed-up computer hacker in Swordfish with John Travolta, and the title role as Dracula's nemesis in Van Helsing. He has also reprised his portrayal of the cigar-chomping, jackknife-fingered Wolverine in several movies.
Jackman has very poor vision, and is unable to even read a menu when is not wearing his contact lenses. He is left-handed, loves windsurfing, plays the piano, guitar, and violin, and sushi is his favorite comfort food.
Furness, Jackman's wife, is still a star down under. Her most recent film was Jindabyne with Gabriel Byrne, and she is best known beyond Australia for her role as a reporter in A Cry in the Dark with Meryl Streep. Before she found success, Furness briefly shared a flat with another struggling Australian actress, Nicole Kidman.
Father: Chris Jackman (acountant)
Mother: Grace Watson
Brother: Ian Jackman
Sister: Sonya Jackman
Brother: Ralph Jackman
Wife: Deborra-Lee Furness (Australian actress, m. 11-Apr-1996, one son adopted)
Son: Oscar Maximillian Jackman (b. 15-May-2000, adopted with Furness)
Daughter: Ava Eliot Jackman (b. 10-Jul-2005, adopted with Furness)

High School: Knox Grammar School, Wahroonga, Australia (1986)
Teacher: Physical Education, Uppingham School, Rutland, UK (1986-88)
University: BA Communications, University of Technology, Sydney (1990)
University: The Actors Centre, Sydney
University: Western Australia Academy of Performing Arts (1994)

(list:ew-2003-it) Leading Man
Fainted
Risk Factors: Yoga, Skin Cancer

FILMOGRAPHY AS ACTOR
Missing Link (4-Apr-2019) [VOICE]
The Front Runner (31-Aug-2018)
The Greatest Showman (20-Dec-2017)
Logan (17-Feb-2017)
Eddie the Eagle (26-Jan-2016)
Pan (20-Sep-2015)
Chappie (4-Mar-2015)
Me and Earl and the Dying Girl (25-Jan-2015)
X-Men: Days of Future Past (10-May-2014)
Prisoners (30-Aug-2013)
The Wolverine (24-Jul-2013)
Movie 43 (1-Jan-2013)
Les Misérables (5-Dec-2012)
Rise of the Guardians (10-Oct-2012) [VOICE]
Real Steel (6-Sep-2011) · Charlie Kenton
Butter (4-Sep-2011)
Snow Flower and the Secret Fan (15-Jul-2011)
Being Elmo: A Puppeteer's Journey (23-Jan-2011) · Himself
X-Men Origins: Wolverine (8-Apr-2009)
Australia (26-Nov-2008)
Deception (24-Apr-2008)
Show Business: The Road to Broadway (19-Apr-2007) · Himself
Happy Feet (16-Nov-2006) [VOICE]
Flushed Away (22-Oct-2006) [VOICE]
The Prestige (17-Oct-2006)
The Fountain (4-Sep-2006) · Tomas
Scoop (28-Jul-2006) · Peter Lyman
X-Men: The Last Stand (22-May-2006)
Stories of Lost Souls (2005)
Van Helsing (3-May-2004) · Van Helsing
X2 (24-Apr-2003) · Logan -- Wolverine
Kate & Leopold (25-Dec-2001)
Swordfish (4-Jun-2001)
Someone Like You... (30-Mar-2001) · Eddie Alden
X-Men (13-Jul-2000) · Logan
Oklahoma! (26-Sep-1999)
Erskineville Kings (23-Sep-1999)
Paperback Hero (25-Mar-1999)
Hey, Mr. Producer! The Musical World of Cameron Mackintosh (8-Nov-1998)

Do you know something we don't?
Submit a correction or make a comment about this profile

Copyright ©2019 Soylent Communications