Marvin Mitchelson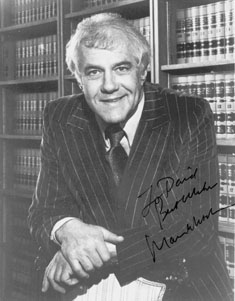 AKA Marvin Morris Mitchelson
Born: 7-May-1928
Birthplace: Detroit, MI
Died: 18-Sep-2004
Location of death: Beverly Hills, CA [1]
Cause of death: Cancer - unspecified
Remains: Buried, Hillside Memorial Park, Culver City, CA

Gender: Male
Race or Ethnicity: White
Sexual orientation: Straight
Occupation: Attorney
Nationality: United States
Executive summary: Celebrity divorce lawyer
Military service: US Navy
American attorney, who first gained prominence in 1963 with the landmark Douglas v. California decision by the U.S. Supreme Court that required all indigent defendants to be afforded legal representation by the government if the defendant himself could not.
Mitchelson is, however, much more known for being "divorce lawyer for the stars", among them Zsa Zsa Gabor, Tony Curtis, Marlon Brando's ex, Robert De Niro, Mick Jagger, Carl Sagan, Andrew Dice Clay's ex, Mike Tyson, and Hugh Hefner. In a very prominent case he represented Michelle Triola, Lee Marvin's live-in, who sued him for palimony after cohabiting with the actor for six years, in Marvin v. Marvin. The court held there was no entitlement to division of community property, absent other explicit arrangements made by the couple.
While famous for divorce cases, Mitchelson was married 45 years until his death from cancer in September 2004.
---
[1] Rehabilitation Center of Beverly Hills, Beverly Hills, CA.

Sister: Marian Gartler
Wife: Marcella (m. for forty-five years)
Son: Morgan


University: BA, University of California at Los Angeles (1953)
Law School: JD, Southwestern University (1956)


Tax Evasion 9-Feb-1993 (convicted)
Bankruptcy $4.5 million in debt (1993)
Disbarred
Risk Factors: Cocaine


Author of books:
Made in Heaven, Settled in Court (1976)
Living Together: A Practical Guide (1980)






Do you know something we don't?
Submit a correction or make a comment about this profile






Copyright ©2019 Soylent Communications