Mel Gibson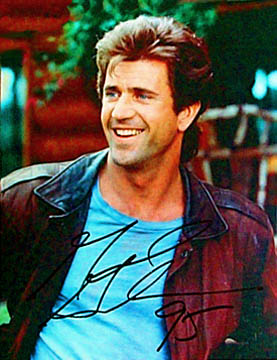 AKA Mel Columcille Gerard Gibson
Born: 3-Jan-1956
Birthplace: Peekskill, NY

Gender: Male
Religion: Roman Catholic [1]
Race or Ethnicity: White
Sexual orientation: Straight
Occupation: Actor, Film Director
Nationality: Australia
Executive summary: Mad Max
Mel Gibson was born in New York, but his family moved to Australia when he was 12. He appeared in high school plays and loved acting, but went to work at an orange juice bottling company after graduating. Until his sister Sheila, going behind his back, filled out an application for him, and he was accepted at the National Institute of Dramatic Art in Sydney. While studying drama, he played Romeo to Judy Davis's Juliette, and shared an apartment with young Geoffrey Rush. Early acting work included a short stint on the long-running Australian drama The Sullivans.
His first prominent role was in Mad Max and its sequels, the Aussie apocalyptic action flicks that became worldwide hits. He says landed the rough-and-tumble title role after losing a bar fight, when he picked himself up off the floor and headed directly to the audition while still bleeding and bruised. He has been a popular movie star ever since, and was selected as People magazine's Sexiest Man Alive in 1985. In addition to his acting successes, Gibson also won Oscars for Best Director and Best Picture for Braveheart. He also directed The Man Without a Face, The Passion of the Christ, and the pilot for an abysmal sitcom he produced, Complete Savages.
The Passion was Gibson's longtime pet project, and when the major studios expressed no interest, Gibson produced the film with $25-30-million of his own money. Even before filming began, it was widely derided as a certain flop. Biblical dramas had been passť since the 1960s, and industry experts knew nobody would pay to see Christ crucified in Latin and Aramaic with English subtitles. The experts were wrong. The film earned back its investment by the matinee show on its second day in release, and made about $600-million, not counting the video and TV rights.
Passion was criticized by some people, because it showed Jews as being culpable in Christ's death, but that is the story told in The Bible: Jesus was Jewish, and Jewish elders were culpable in his death. The controversy was no doubt heightened by reports about Gibson's father, Hutton Gibson, a Holocaust "minimizer", anti-Semite, and radical Catholic who publishes a fringe newsletter.
Like his father, Gibson is opposed to abortion and birth control, and has occasionally expressed reservations about evolution. As for whether he accepts his father's more far-fetched beliefs, Gibson offers only rare and cryptic comment, sometimes quoting the Biblical edict to "honor thy father and mother". "My father never denied the Holocaust", says Gibson. "He just said there were fewer than six million [killed]". Possibly true, but Gibson's father has also written that Germany lacked the gas to kill that many people, lacked the technology to cremate that many bodies, and that many of those millions weren't killed, but instead "fled to countries like Australia and the United States".
"My dad taught me my faith and I believe what he taught me. The man never lied to me in his life," Gibson once explained to Reader's Digest. When asked whether he believed the Holocaust happened, the younger Gibson replied, "Yes, of course. Atrocities happen. War is horrible. World War II killed tens of millions of people. Some of them were Jews in concentration camps".
When he isn't carefully measuring his words about his father, Gibson can also be painfully honest. When New York Times critic Frank Rich suggested that anti-Semitism may have motivated Gibson to make The Passion, Gibson responded, "I want to kill [Rich]. I want his intestines on a stick... I want to kill his dog."[2]
Mel Gibson believes Jews will burn in hell -- not because they're Jews, just because they aren't Christians, and specifically because they aren't Catholics. And Gibson saw the same future for his first wife. "She's a much better person than I am," he says, "Honestly. She's Episcopalian, Church of England. She prays, she believes in God, she knows Jesus, she believes in that stuff. And it's just not fair if she doesn't make it [to Heaven]. She's better than I am. But that is a pronouncement from the chair. I go with it."
In a 1991 interview he admitted some distaste for homosexuality. "They take it up the ass", he said, adding as he pointed at his own buttocks, "This is only for taking a shit. With this look, who's going to think I'm gay? I don't lend myself to that type of confusion. Do I look like a homosexual? Do I talk like them? Do I move like them?"
In a 2006 drunk driving incident on California's Pacific Coast Highway, Gibson's blood alcohol level was measured at 0.12, well over the legal limit. According to a police report filed by deputy James Mee, Gibson made anti-Semitic remarks, demanded to know if the arresting officer was a Jew, and threatened to "get even." Also according to the report, to a female deputy the actor remarked, "What do you think you're looking at, sugar tits?"
Long described publicly as a firm family man, Gibson was married for decades and reportedly raised his children the way he was raised, in a strict Catholic household where obedience was expected. In one anecdote, after a difficult day filming a battle scene for Braveheart, one of the film's weary extras reportedly mistook one of Gibson's children on the set for an errand boy, and asked him to bring a cup of tea. Gibson was within earshot, and nodded and whispered to his son, "Go get it." Yet discipline and filial responsibility were not enough to save his marriage, which degenerated into litigative divorce in 2009.
Even before the divorce was finalized, the very papist Gibson had already fathered his eighth child, this time out of wedlock with Ukrainian lingerie model Oksana Grigorieva -- Timothy Dalton's ex-wife. His relationship with Grigorieva soon melted down publicly with a series of taped and leaked rants from Gibson in which, among many hateful things, he said she deserved rape. He later pled no contest to misdemeanor battery of Grigorieva, and was sentenced to community service and 52 weeks of counseling.
Gibson was born with a rare physical anomaly called "Horseshoe kidney". His two kidneys are fused at the base into a U shape, an congenital defect that occurs in about one of every 400 people.
---
[1] Raised a Roman Catholic, though rejects the doctrines of Vatican II. Christopher Noxon, "Is the Pope Catholic... Enough?", The New York Times Magazine, 9 March 2003: "They generally operate outside the authority or oversight of the official church, often maintaining their own chapels, schools, seminaries and clerical orders. Central to the movement is the Tridentine Mass, the Latin rite that was codified by the Council of Trent in the 16th century and remained in place until the Second Vatican Council deemed that Mass should be held in the popular language of each country." Also Roger Friedman, "Church Digs Mel Gibson's $5 Million", Fox News, 13 February 2006.

[2] Peter J. Boyer, "The Jesus War", The New Yorker, 15 September 2003. Frank Rich responded later, "I don't have a dog." Presumably he still has intestines.

Father: Hutton Gibson (railroad brakeman, Holocaust "minimizer")
Mother: Anne Gibson (d. Dec-1990)
Sister: Patricia Gibson
Sister: Sheila Gibson
Sister: Mary Bridget Gibson
Brother: Kevin Gibson
Sister: Maura Gibson
Brother: Daniel Gibson (twin)
Brother: Christopher Gibson (twin)
Brother: Donal Gibson (industrial painter, b. 13-Feb-1958)
Sister: Anne Gibson
Brother: Andrew Gibson
Wife: Robyn Moore (nurse, dated 1977-80, m. 7-Jun-1980, sep. 2009, div. 23-Dec-2011, seven children)
Daughter: Hannah Gibson (b. 1980)
Son: Edward Gibson (twin, b. 1982)
Son: Christian Gibson (twin, b. 1982)
Son: Willie Gibson (b. 1985)
Son: Louis Gibson (b. 1988)
Son: Milo Gibson (b. 1990)
Son: Tommy Gibson (b. 1999)
Mistress: Diana Alouise (hair stylist, extramarital affair)
Mistress: Oksana Grigorieva (musician, together 2009-10, one daughter)
Daughter: Lucia (b. 30-Oct-2009)


High School: Asquith High School For Boys, Sydney (1974)
Conservatory: National Institute of Dramatic Art


Alcoholics Anonymous 1991
Oscar for Best Director 1996 for Braveheart
Driving While Intoxicated Toronto, Ontario, Canada 1983, pled guilty Apr-1984
Driving While Intoxicated Los Angeles County, Pacific Coast Highway (arrested 28-Jul-2006), convicted, expunged (6-Oct-2009)
Battery (charged 11-Mar-2011), pled no contest
Appendectomy Mar-1996
Irish Ancestry
Risk Factors: Smoking, Alcoholism, Appendicitis, Homophobia


FILMOGRAPHY AS DIRECTOR
Apocalypto (8-Dec-2006)
The Passion of the Christ (25-Feb-2004)
Braveheart (19-May-1995)
The Man Without a Face (25-Aug-1993)


FILMOGRAPHY AS ACTOR
Machete Kills (19-Sep-2013)
Get the Gringo (15-Mar-2012)
The Beaver (16-Mar-2011) · Walter Black
Edge of Darkness (28-Jan-2010) · Craven
Who Killed the Electric Car? (23-Jan-2006) · Himself
The Singing Detective (17-Jan-2003)
Signs (29-Jul-2002)
We Were Soldiers (25-Feb-2002) · Lt. Col. Hal Moore
What Women Want (13-Dec-2000) · Nick Marshall
The Patriot (27-Jun-2000) · Benjamin Martin
Chicken Run (21-Jun-2000) · Rocky [VOICE]
The Million Dollar Hotel (9-Feb-2000) · Skinner
Payback (5-Feb-1999) · Porter
Lethal Weapon 4 (10-Jul-1998)
Conspiracy Theory (8-Aug-1997) · Jerry Fletcher
Ransom (8-Nov-1996) · Tom Mullen
Pocahontas (15-Jun-1995) [VOICE]
Braveheart (19-May-1995) · William Wallace
Maverick (20-May-1994) · Bret Maverick
The Man Without a Face (25-Aug-1993) · McLeod
Forever Young (16-Dec-1992) · Daniel
Lethal Weapon 3 (15-May-1992) · Martin Riggs
Hamlet (19-Dec-1990)
Air America (10-Aug-1990)
Bird on a Wire (18-May-1990) · Rick Jarmin
Lethal Weapon 2 (7-Jul-1989) · Martin Riggs
Tequila Sunrise (2-Dec-1988) · McKussic
Lethal Weapon (6-Mar-1987) · Martin Riggs
Mad Max Beyond Thunderdome (10-Jul-1985)
Mrs. Soffel (26-Dec-1984) · Ed Biddle
The River (19-Dec-1984) · Tom Garvey
The Bounty (4-May-1984) · Fletcher Christian
The Year of Living Dangerously (17-Dec-1982) · Guy Hamilton
The Road Warrior (5-Mar-1982) · Mad Max
Attack Force Z (5-Feb-1982) · Paul Kelly
Gallipoli (28-Aug-1981) · Frank Dunne
Tim (13-Jul-1979)
Mad Max (12-Apr-1979) · Max
Summer City (22-Dec-1977)


Appears on the cover of:
Entertainment Weekly, 20-Feb-2004, DETAILS: Can Mel Gibson Survive The Passion of the Christ? (Gibson shown in a crown of thorns, illustration by Matt Mahurin)





Requires Flash 7+ and Javascript.



Do you know something we don't?
Submit a correction or make a comment about this profile






Copyright ©2014 Soylent Communications